Red Thai Curry Meatballs
As busy bee's, We have used cupboard, 'quick cheats' ingredients as this is what we have in our press!
But you can and of course if possible, use fresh ingredients if you have them, just switch them out.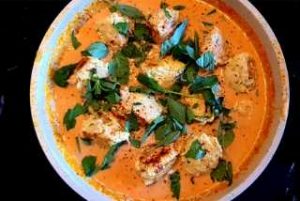 Delicious, Simple and Easy - you can tailor it to your tastes.
350G Turkey Breast Mince
1 Shallot (finely diced)
1 Egg ( optional)
1-1/2 tbsp of Red Thai curry paste
1 tbsp of oil
1 chilli deseeded and chopped ( or 1 tsp of chilli)
1/2 thumb of ginger ( or 1 tsp of ginger puree)
1 tin ( 400ml) of reduced-fat coconut milk
A good handful of fresh basil, roughly chopped.
Salt & pepper to season
Brown rice to serve
Remember this recipe can be doubled up if making for a larger family, Meatballs can also be made 24 hours in advance just place in your fridge.
Step1
I a mixing bowl mix together your mince, shallot, chilli, ginger and egg.
Mix well together.
Step 2 – Heat the oil in the pan and make your meatballs ( taking a handful of the mixture and rolling with your hands)
Step3 – Brown the meatballs on the pan each side, and set aside onto a plate ( medium heat)
If serving with rice you can put this on now.
Step4 – Next put the Red Thai Curry paste on the pan and mix around for approx. 1 minute then add your coconut milk. Heat up and then reduce to simmer. (for approx 5 mins)Once simmering stir and mix to make it smooth. If too thick just add some water to the mixture. Here you can add additional veg if you wanted for eg.frozen peas(get those veggies in!)
Step5- Add your meatballs back into the mixture to cook through, then season with salt and pepper and add your basil leaves.
Step6 -Serve up and enjoy.
back