Awards Shortlist Announced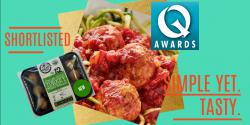 Hogan's Farm Tasty Italian Turkey Meatballs made the Irish Quality Food Awards 2018 shortlist!
We were delighted to receive the news that our Italian inspired turkey meatballs made the 2018 Irish Quality Food Awards.
Made with fresh turkey breast , blended with Italian seasoning and herbs this livens up any dish.
12 meatballs per pack , approx 25g per meatball means that these are not only little balls of a super tasty filling protein but  quick and easy to cook too, which makes them perfect fo lunch or dinner.
Believe it or not, this was a product that was developed a couple of years back but at the time I think it was a bit too premature for the fresh turkey market.
Now that more and more people are incorporating fresh turkey into their daily and weekly diets , this adds a little something different to a meal but without the fat!
We beleived in this product  and personally I couldn't be happier it is back on the menu as it now means I can eat more! so we are delighted that it got recognised at the recent awards tastings and super excited that it made the shortlist. Especially in a tough category – Meat -Burgers and Meatballs.
Watch this space as we re-launch it back into our shop and online shop for sale very soon.
Niamh
back