Turkey in a hot mushroom sauce
This is a great meal to cook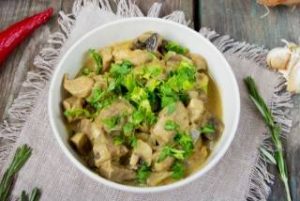 Enjoy this tasty winter warmer!
500g Turkey Breast ( cooked leftovers or diced cookedfresh)
1 tbsp of flour (seasoned)
3 garlic cloves, peeled and sliced.
2 red chilli's – deseeded, finely sliced (chilli flakes can be used instead)
1 medium onion, sliced
175g mushrooms , diced and sliced
½ pint of turkey / chicken stock
1 tbsp soy sauce
3 tbsp of cream cheese
1 tbsp freshly chopped parsley
Gently sauté garlic, chilli and onion for 3 mins.
Add mushrooms and sauté, sprinkle in flour to thicken.
Slowly stir in stock and soy sauce into pot and bring to the boil.
Add your cooked turkey leftovers.
Simmer and then stir in Cream cheese finish with a sprinkle of fresh parsley.
Serve with steamed rice.
back