Turkey Rasher with Baked Avocado
So easy peezey a great breakfast or lunch option & while your at it…a quick light dinner just add some salad or veg.
Recipe Credit to: Richard Kennedy, The Chief Freak @Fitness Freak esp. for Hogan's Farm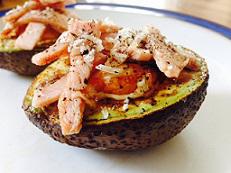 Baked Avocado,Turkey & Egg
•1 avocado (make sure it's ripe by pressing the top & if there's some give in it it should be fine)
•2 eggs
•2 Hogan' farm Turkey Rashers
•sprinkle of Parmesan cheese
•drizzle of balsamic vinegar
•sea salt & freshly ground black pepper
First things first, on either side of the avocado slice off a small piece of skin from the rounded side leaving a small  flat area ,this is important for baking later on so it Doesn't rock'n roll in the oven .
Now cut the avocado in half by cutting a knife into the stone & then running it all the way around
remove the knife and separate avocado by turning each half in opposite directions
now one half will still have the stone in so to remove it tap it with the blade of the knife so that it sticks in then gently twist it and it'll ease out
next crack open your two eggs pouring one into each whole in the avocado.Its probably  best not to pour all of the white in as it will more thank likely over flow.
pre heat oven to 200 degrees
next place the avocados on a baking tray (sitting nice and steady on the flat surface you made earlier)
sprinkle over some sea salt & freshly ground black  pepper & place in the oven for 12-15 minutes
now whilst he avocados & eggs are baking get your Hogans Farm Turkey rashers  & fry on a medium heat for 3-4 minutes each side
once their cooked slice them up thinly
remove avocados from the oven and lay the turkey rashers strips on top
grate over some Parmesan cheese
finish off with a drizzle some zingy balsamic vinegar & Booom Booom boooom!
back