Turkey Steaks with Lemon Crumb and Veggie Mash
Serves: 4
Calories per serving: 340kcal ( ref myfitnesspal)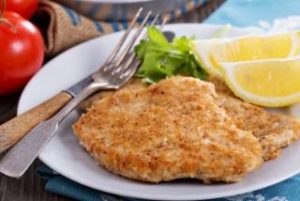 What You Need -
1 tablespoon plain flour
1 large egg
100g fresh breadcrumbs
zest of 1 lemon
Small handful parsley / ½ tsp dried parsley
4 Hogan's Farm turkey breast steaks ( 450g approx.)
2 tablespoons of oil ( sunflower)
4 cherry tomatoes
350g broccoli and 250g peas ( fresh or frozen)
2 tablespoons pesto (optional)
Heat your fan oven to 180 °
Put your flour into a wide shallow bowl/ plate and season with salt & pepper.
In another shallow wide bowl, Whisk the eggs with a tablespoon of water .
Into another mixing bowl, add breadcrumbs, lemon zest and parsley and mix.
Dip each turkey steak side into the flour, shaking off any excess, then into the eggs and then into the breadcumb mixture. Press the breadcrumbs onto each steak to make sure they stick.
Drizzle large baking tray with the oil, place steaks down and bake for  20 mins.
Add the cherry tomatoes to the tray for the last 5 mins of baking.
Meanwhile, boil your vegetables in water, when cooked drain and steam dry for 2 mins.
Add the pesto and mash.
back