Turkey Tomato Bake
Simple Turkey Tomato Bake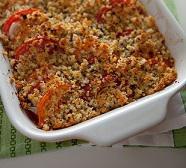 Tasty Tomato Turkey Bake
2 small or 1 large onion chopped
2 garlic clove, crushed
3 tbsp of olive oil
2 tsp dried oregano
3 x cans of chopped tomato
1 tbsp of sugar
A little splash of vinegar
500g (approx.) cooked shredded turkey
1 x 125g mozzarella ball
2 food handfuls of fresh breadcrumbs
Salt & pepper to season
1. Using tbsp of oil on a medium- high heat on pan, heat oil and fry onions, garlic until softened.
2.Add the tomatoes and sugar and little splash of vinegar and season with salt & pepper and dried oregano. Then simmer for about 15-20 minutes until mixture is really thick.
3. Meanwhile  pre-heat your oven to 200oc
4.. Stir in the shredded turkey onto the mixture in the pan.
5. Then transfer the lot, into a baking dish.
6.Tear over the Mozzarella into chunks, then scatter over the breadcrumbs with a bit more pepper.
7 Bake for 20 minutes, until turkey is piping hot through and breadcrumbs are golden & tomato is bubbling. Eat with mash, jacket potato, rice or pasta.
back