#Blas2016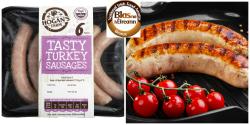 Paul & Sandra Hogan pick up award at Blas na hEireann 2016 for Hogan's Farm Tasty Turkey Sausages
The Annual Food Producers awards Blas na hErieann were held on Saturday 1st October.
The Blas awards, represent the best in Irish produce. What we love about Blas is that it is mainly all about the producers, the people behind the scenes getting their hands dirty making the products that we all enjoy. The awards celebrates them and their partnerships with Irish retailers to produce products that is the best in their category.
We entered a couple of products this year and were delighted to have picked up an award for our new Tasty Turkey Sausages.
Our turkey sauages faced stiff compeition in the sausage category against all the various types of meat picking up Bronze for 2016.
As a relatively new entrant into the sausage market we were thrilled to have won such a prestigous award in this category.
Our turkey sausages are low in Fat, Contain No Pork and have no gluten in the recipe.
They are available to buy direct online at www.hogansfarm.ie, at our Hogan's Farm Shop and in select Dunnes Stores nationwide ( in the turkey aisle)
back