Fresh Turkey has a whole new New Look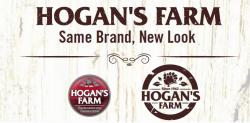 Hogan's Farm brand has been given a facelift! Fresh Turkey never looked soo good!!
Hogan's Farm brand has been given a facelift! Fresh Turkey never looked soo good!
For over 10 year's Hogan's Farm has been all about the Red! As our business has changed over the years in terms of sourcing our turkey during non seasonal times of the year, our quality and presentation has not been compromised and this is all to do with our years of experience in the fresh turkey business.
We are in the fresh turkey business over 54 years and this experience and knowledge gained has been passed down through the generations.
Allowing the long standing team of Hogan's Farm butchers to become experts in their field when it comes to picking quality fresh turkey from our supplies.
This is key to producing a quality finished product for our customers. Each piece of meat is  individually graded by hand by our team before reaching the production floor. Then this meat is hand prepared and produced into what is required from steaks, stirfry  to mince etc.
It is because of this and the success of our Hogan's Farm Shop branding that we have moved the Hogan's Farm brand from what was the red to a more rustic brown.
We feel that this new brand represent's us better as so much of our process is carried out by hand. The new Hogan's Farm brand better portrays  what we call our 4 core pillars – quality, expertise, service and craft. The logo itself symbolises a stamp like look – which we are proud to put on our packs , as it resembles our seal of approval that when you see this logo, you are assured that the product you are receiving has met the Hogan's Farm standard.
Each pack – now also has recipe suggestions , to give customers more options and ideas on how to create more dishes using fresh turkey.
We hope you like it? and welcome any feedback you have on it.
back