Hogan's Farm Wins Top Awards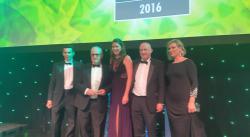 Hogan's Farm scoops up two awards at the recent Irish Quality Food Awards
We are delighted to announce that we have won two prestigious awards for our fresh turkey products at this year's Irish Quality Food and Drink Awards 2016 held at the Round Room at the Mansion House, in Dublin on the 8th September, hosted by Ballymaloe Celebrity Chef and cookery author Rachel Allen.
What won you may ask!?
Our Traditional Free Range Woodland Bronze Crown  won in the Christmas Q Meats (  a second win for us  in this category two years running) and the Charlesfort Turkey Roulade, a butter basted breast joint with their own black pudding & carmelised onion stuffing won in the Meat-Poultry category and was also served for the main course on the night.
Fintan and Paul where in attendance on the night. Fintan who collected the award, said: "We are thrilled to win our category. Our family have reared turkeys for over 50 years and in recent years have developed our own exclusive Hogan's Farm Heritage Turkeys which are slower rearing turkey breeds such as the Traditional Free Range Woodland Bronze and Charlesfort White Turkeys and to win an award for each of these products is just fantastic. We are extremely proud of our team here and the care that goes into producing all our products."With Paul adding what the award win means to them  "Winning this award goes to show that the judges believe in these product's just as much as we do, which is hugely rewarding and proves we are on the right track in giving what our customers want."
Hogan's Farm Traditional Free Range Woodland Bronze Crown & Charlesfort Turkey Roulade are seasonal products available for Thanksgiving, Christmas and  Easter directly from Hogan's Farm Shop and online here for collection & home delivery . These products are available to pre-order from 3rd October.
Would you like to try them?!
back