New Product Launch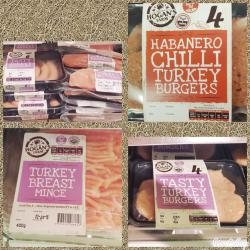 New Product Launches
Think Turkey is just for Christmas? Think again!!
We have developed a new range of turkey products that makes it easier to incorporate turkey into your weekly meal plan.
New to the Hogan's Farm range are : Tasty Turkey Burgers (plain) , Habanero Chilli Turkey Burger ( has a little chilli heat), Turkey Sausages  and Turkey Rashers.
This new range was developed to give you more options when eating  turkey ,  make healthier choices made easy and also give some meal inspiration. Like all our products , they are made using 100% turkey only adding in flavour . We have received some very positive feedback direct from customers, However as they are only new we would love to hear what you think? AND what other additions you would like to see in the range?
back