Winner Winner Turkey Dinner !!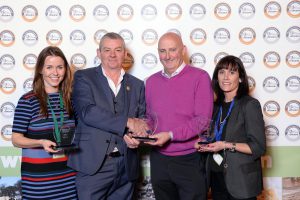 Hogan's Farm gobbles up top awards at the Irish Quality Food Awards and Blas na hEireann.
The local turkey producer takes Christmas, scooping the overall Christmas Q Gold Award at the prestigious IQFA for their Dunnes Stores Simply Better Stuffed Crown on the bone. This major accolade beat competition in their own fresh meats category and this Gold award also won against all other Christmas food's.
The recent Blas na hEireann Irish food awards held in Dingle , saw them picking up 5 awards including 2 Gold's, 1 Silver and 2 Bronze. Hogan's Farm took a clean sweep of the Turkey category with Gold for their Spar Select Stuffed Cranberry butter basted turkey breast joint, Silver for their Dunnes Stores Simply Better Stuffed Crown on the Bone and Bronze for Spar Select Plain butter basted turkey breast joint. Their new entry Gluten Free Sundried Tomato and Basil turkey sausage ,won the Blas Gold award against stiff competition in the (other meats) sausage category.
In response to their recent award winning achievements, Fintan Hogan says "We are thrilled with the awards, it's great to get recognition for the quality products that we produce. The award process takes our products through rigorous multiple blind taste tests , that's a great sense of achievement" . In agreement is brother Paul Hogan " It's good for our customers too, it gives them confidence that they are getting the best when they choose Hogan's Farm to supply these quality products "
With 7 awards under their belt for their fresh turkey products, Hogan's Farm is the most recognised and awarded fresh turkey producer in Ireland for 2015. However, the local family business aren't sitting on their laurels, as they continue to expand their range of fresh turkey for Christmas. With the introduction of their Hogans Farm Heritage Turkey Selection, a smaller select range of traditional slower rearing turkey breeds. Included in this is their Woodland Bronze, the only traditional free range turkey's that live freely outside, roaming the woods all night and day.
It seems we will be hearing more about Hogans Farm in the future and as they gear up for the busy season ahead.
back