Woodland Bronze Turkeys have arrived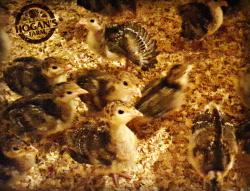 Hogan's Farm Traditional Free Range Woodland Bronze Turkey Babies are the first baby turkeys for Christmas to arrive on the farm
There was great excitement as the first of our turkeys for Christmas 2016, arrived to the farm on a wet and windy Wednesday morning in June.
The babies arrived one day old to the farm and we nestled them into their warm comfortable beds .
Our Woodland Bronze turkeys are now nearly 2 weeks old and are running around lively as any toddler. We took the picture shown, when they were one week old, as I didn't want to frighten them off with the flash we took very few.
So you may wonder why they arrive so early especially that Christmas is a little under 6 months away!
Our Hogan's Farm Traditional Free Range Woodland Bronze Turkeys, are a slower growing breed of turkey. We specially chosen these breed for Hogan's Farm Woodland Bronze because of their slow growing nature, meaning the bird can develop and mature at a far more natural pace, the way nature intended. The turkeys are then brought out the natural wild woodland surroundings when they are old enough, about 6 weeks old. True to their title – Traditional Free Range – they are given the freedom to roam freely around their pasture and  woodland surroundings night and day.
As a result of the birds having a more free and natural slower rearing process, this allows them to mature over a much longer period of time. Coupled with the fact that they are free to roam and forage all day – this adds to the overall tenderness & flavour profile of the birds on full maturity.
back